Laurel Robinson, Owner of Vision Expressions, is sharing wedding design tips that won't break the bank! Talk to any parties who are helping fund your wedding and set a realistic budget. This will be your guide for knowing what venue you can afford. You'll be able to gauge how much it will cost to achieve your wedding vision at that particular venue when you have an overall budget in mind when searching for your venue. Enjoy Laurel's wedding design tips below!
You're marrying the love of your life and you want to style your wedding beautifully. But, that doesn't mean you have to spend a fortune. Especially if you'd rather spend a good portion of the funds sinking your toes into white sand and clear blue waters. We get it! So here's some helpful wedding design tips for a gorgeous wedding under 10k!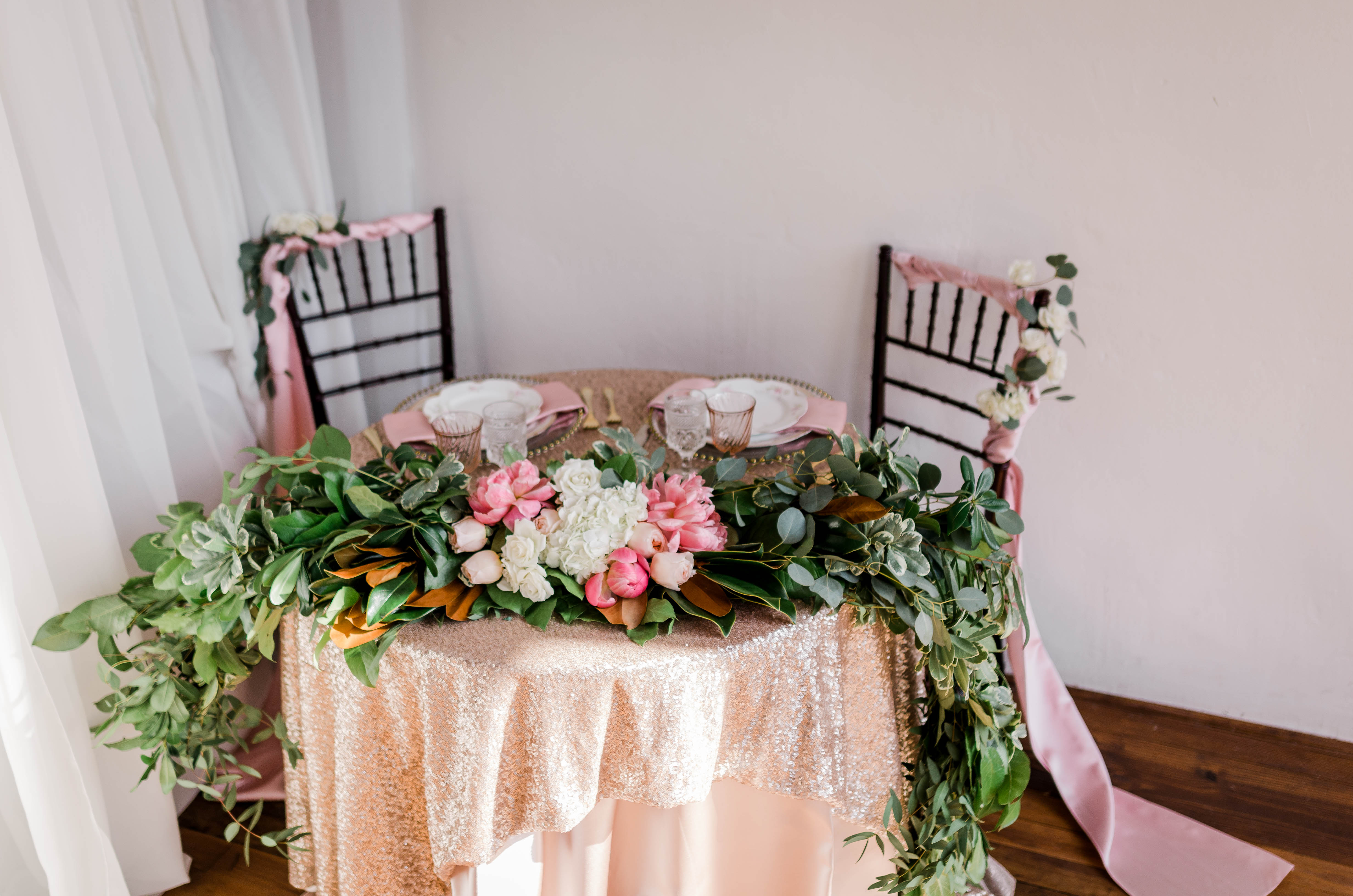 Rentals + Styling: Vision Expressions | Photography + Florals: Sarah Bush Designs | Linens: Graceful Tables | Venue: The Corner District
Wedding Design Tips For a Beautiful Wedding Under $10k
Think of a theme or style that's more of a fund-friendor than a budget-buster. For example, votives versus pillar candles are more cost effective. Furthermore, they illuminate spaces better because of their lower lighting. And smaller vessels for florals like mason jars can be styled elegantly and cost far less to purchase or rent than taller vessels with larger openings that would require a lot more.
Something old, something new, something borrowed… you get the gist of it. That pearl earring from mom or ruby necklace from granny aren't the only old treasures to incorporate into your wedding. The ever popular wedding signs have long made a big splash in the wedding scene. Think before you run to your nearest home decor store to purchase that elegant, pricey mirror. How about that ornate one in your foyer that guests always compliment when they visit?
Save money and rent! Often times, brides with budgets under $10k think they'll save a ton of money by purchasing items outright. This is so far from the truth! Spend some time doing a bit of research. There are many rental businesses who not only have what you need. But, 9 times out of 10, it will cost you less! Not a crafty bride or don't have a lot of time to spend on things like gluing and cutting? Rentals are the perfect way to go and can save you money.
And last, but not least, make sure to get get the skinny on any additional services - you never know what sweet deals you may find. Businesses like Vision Expressions not only offer a beautiful collection of vintage items, but they also provide cost-saving event design and styling packages included with their rentals and can handle the entire setup and breakdown. Can I get an all-in-one AMEN and please pass the swimwear?!
With these wedding design tips on how to style your wedding beautifully without breaking the bank, you can plan a gorgeous wedding day under $10k. Happy wedding planning!
Through The White List Vendors, Vision Expressions is offering the following wedding planning deal: Book Vision Expressions Sweetheart Table Package before March 15th and receive a $1.00 discount off your choice of gold, clear or silver glass beaded chargers for your wedding reception. Book both and receive waived delivery fees, a savings of $310.